Our Ultimate Guide To Navigating The Virtual World Of Splendour XR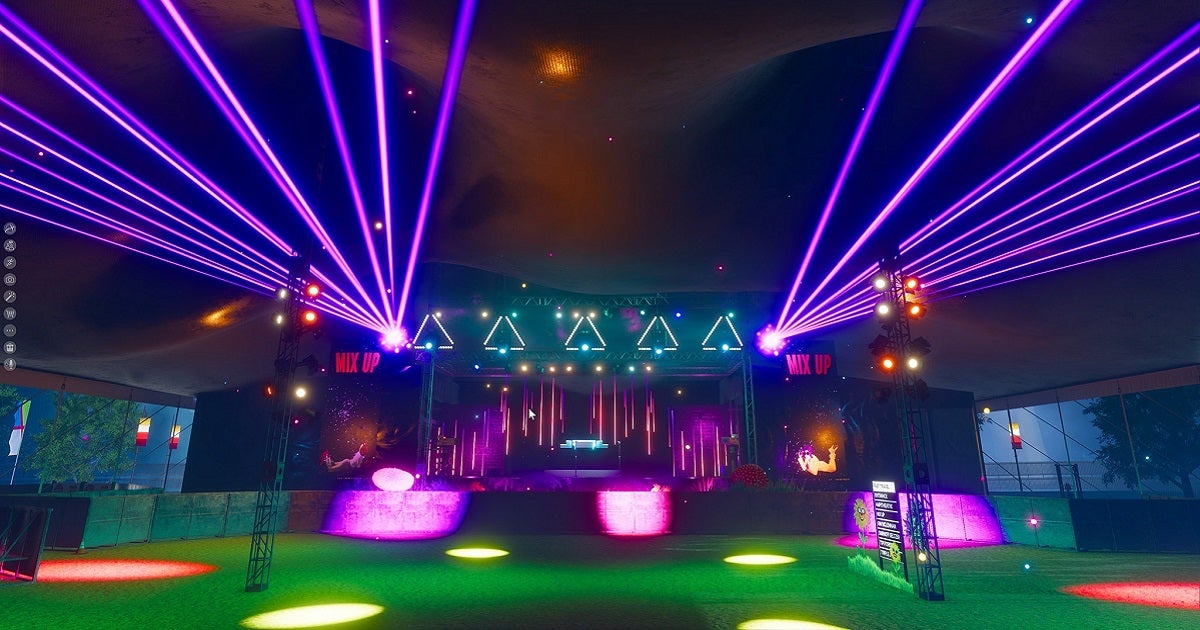 Splendour XR set times are live and just in time to get your plans sorted for your extended reality adventure next weekend.
Headliner Khalid will perform on the iconic amphitheatre stage alongside CHVRCHES, Denzel Curry, Tash Sultana, Aurora, Client Liaison and King Stingray on Saturday 24 July.
Other acts performing on Saturday across the multiple virtual stages will be Masked Wolf, The Chats, Methyl Ethel, Triple One, Vera Blue, Duke Dumont, Little Simz and heaps more.
On Sunday 25 July, The Killers bring the heat to the stage with the help of Charli XCX, Kaytranada, Ocean Alley, Of Monsters and Men, The Avalanches, Vance Joy and Grimes Metaverse (Super Beta).
Amyl and the Sniffers, Crooked Colours, WAFIA, Ziggy Ramo, Spacey Jane, The Jungle Giants and King Gizzard & The Lizzard Wizard are also amongst the amazing acts set to perform on Sunday.
Skegss and 2manydjs (live) have also been announced as last-minute additions to the lineup with Violent Soho unable to perform.
The virtual festival will also play host to a bunch of in-depth discussions, comedy, DJ sets and entertainment for the little ones, bringing IRL Splendour In The Grass hubs like The Forum, Global Village, Comedy Club, Tipi Forest and Little Splendour into the virtual realm.
Overwhelmed by all the exciting things Splendour XR has to offer? We've put together a handy guide to how you can get the most out of your festival experience.
How do I watch Splendour XR?
Splendour XR will be viewable on most devices with a screen. Enjoy the festival on your smartphone, tablet, laptop, or TV via Chromecast or Apple TV etc.
Pro tip: For the most immersive experience a gaming PC and/or a VR headset will let you walk around the virtual festival grounds in real-time!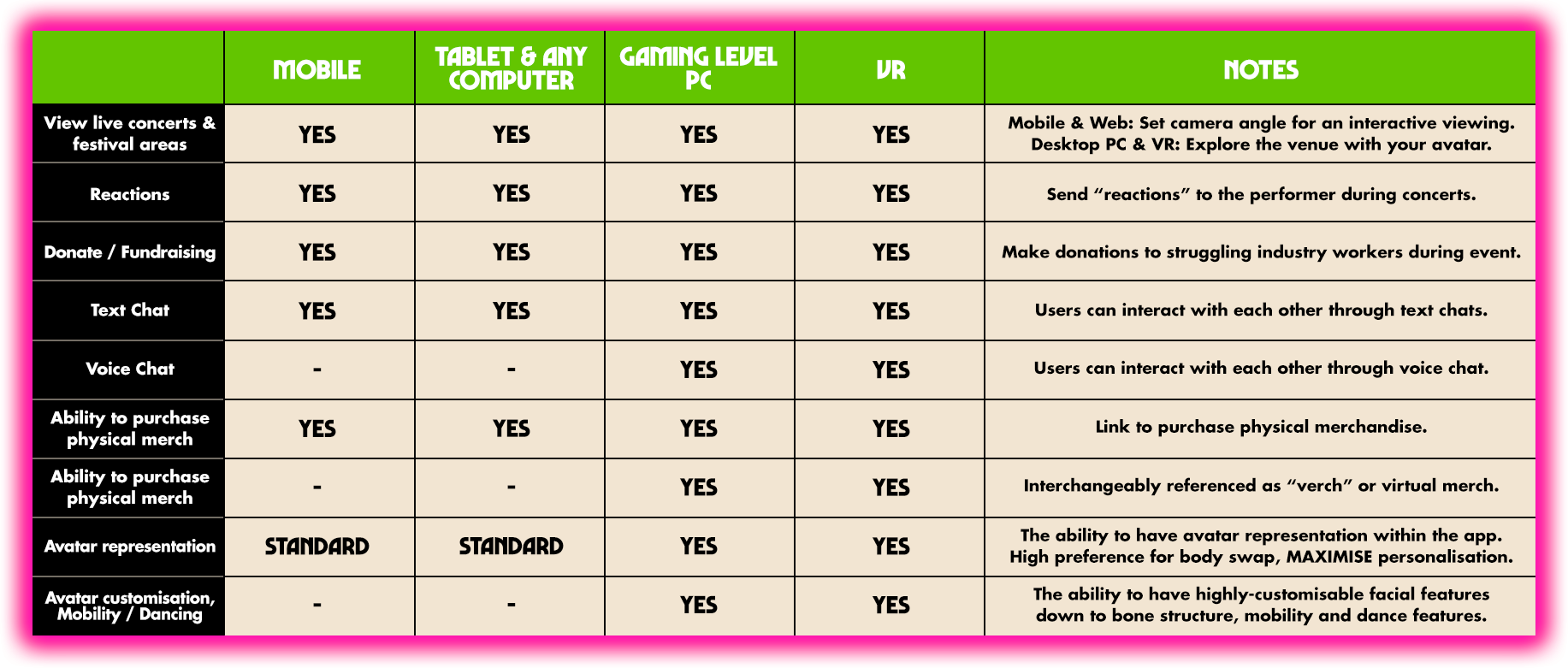 What areas can I visit?
All of the iconic IRL Splendour in the Grass stages and activity areas have been virtually recreated, ready for you to explore, including The Amphitheatre, Mix Up stage and the G.W. McLennan tent. You can also explore The Forum comedy tent, Global Village and Little Splendour areas.
The possibilities are endless! Get a sneak preview of the Splendour XR world below.
How will the performances go down?
The Splendour XR lineup has been hand-picked to ensure all music lovers get a piece of the action. All acts including international heavyweights Khalid, The Killers, Charli XCX and Grimes, as well as local favourites Spacey Jane, The Avalanches, Skegss and heaps more, will record one-off sets that will then be transformed into the digital world using Sansar technology.
Brain-bending visuals will also accompany some of the artist's performances.
Check out the set times below to help map out your schedule for the weekend.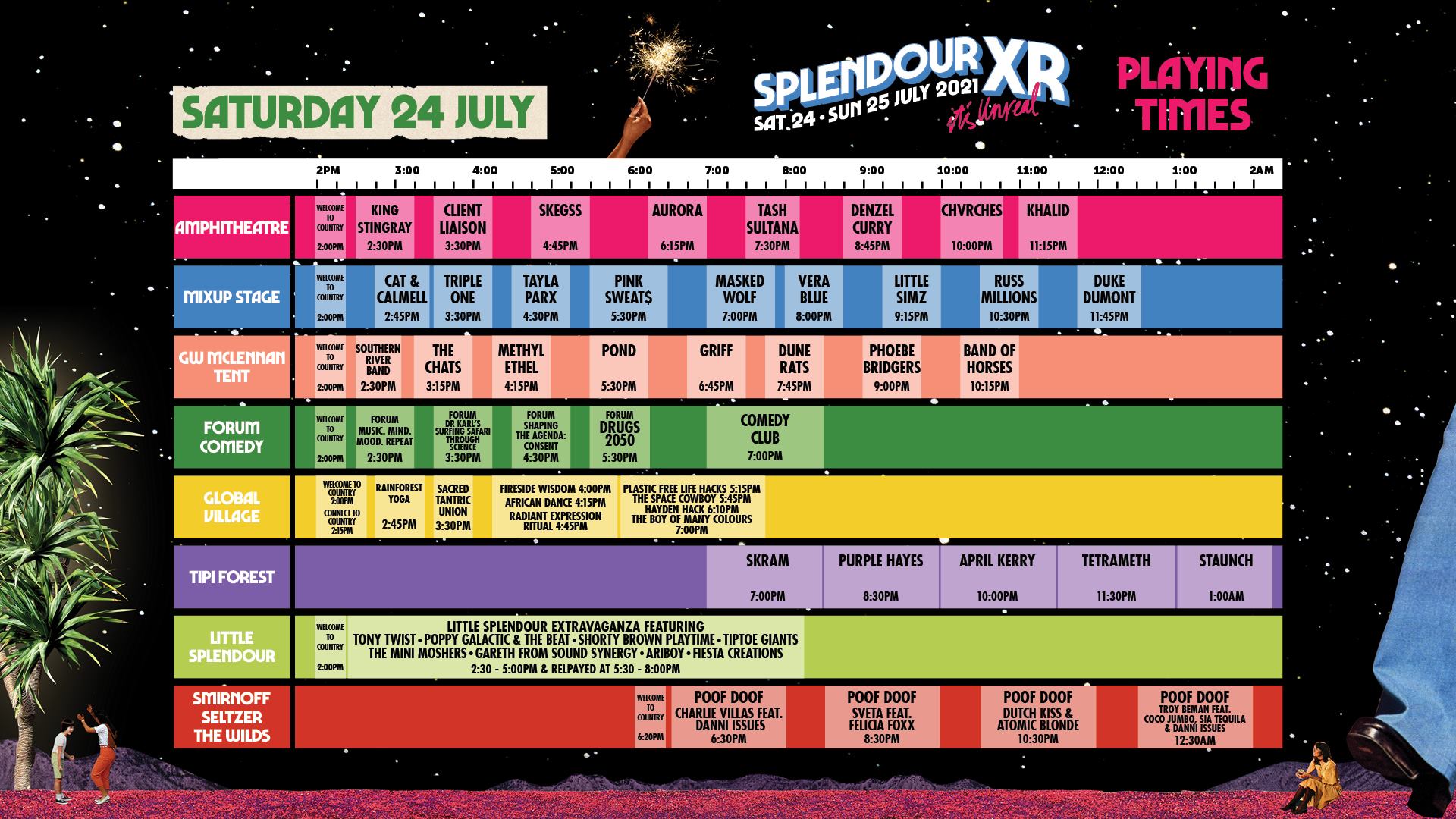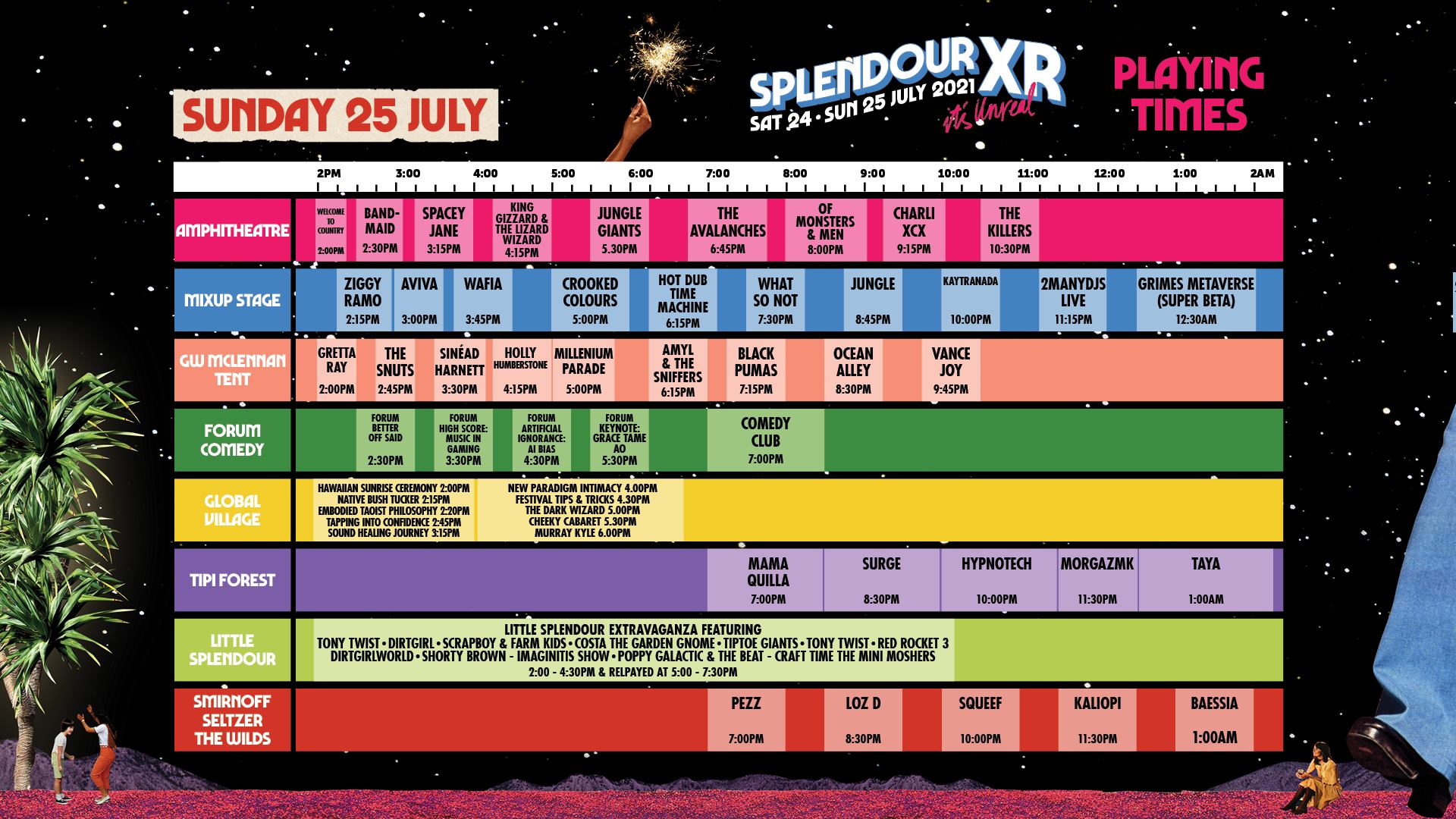 When will I be able to access the Splendour XR world?
Splendour XR will operate globally in a single time zone from 2pm to 2am AEST (Australian Eastern Standard Time)(GMT +11) on Saturday 24 July and Sunday 25 July. All video content will be available for 7 days after the event via both web and mobile versions.
Ready to embark on your Splendour XR journey? Grab yourself a ticket via the Moshtix website and strap yourself in for a wild ride! Full ticket and lineup info below.
Splendour XR
Sat 24 & Sun 25 July 2021


DAY 1
KHALID
CHVRCHES. DENZEL CURRY. DUKE DUMONT. TASH SULTANA. MASKED WOLF. RUSS MILLIONS
BAND OF HORSES. LITTLE SIMZ. VIOLENT SOHO. AURORA. PHOEBE BRIDGERS. VERA BLUE
PINK SWEAT$. CLIENT LIAISON. GRIFF. POND. TAYLA PARX. DUNE RATS. METHYL ETHEL. THE CHATS
TRIPLE ONE. CAT & CALMELL. KING STINGRAY. THE SOUTHERN RIVER BAND
DAY 2
THE KILLERS
CHARLI XCX. VANCE JOY. GRIMES METAVERSE (SUPER BETA). THE AVALANCHES. OF MONSTERS AND MEN
KAYTRANADA. BLACK PUMAS. HOT DUB TIME MACHINE. MILLENNIUM PARADE. THE JUNGLE GIANTS
OCEAN ALLEY. JUNGLE. WHAT SO NOT. KING GIZZARD & THE LIZARD WIZARD. SIN ADHARNETT
HOLLY HUMBERSTONE. SPACEY JANE.CROOKED COLOURS. AMYL AND THE SNIFFERS
WAFIA. AVIVA. THE SNUTS. BAND-MAID. ZIGGY RAMO. GRETTA RAY
THE FORUM
GRACE TAME, ADAM SPENCER, ETHAN NADELMANN, DAVID NUTT, MICK PALMER, FIONA PATTEN MP
DR DAVID CALDICOTT, ZARA SEIDLER, CHANEL CONTOS, SAXON MULLINS, TARANG CHAWLA
BRANDON FRIEDMAN, LUCY WARK, MARIEKE HARDY, EMILIE ZOEY BAKER, WAFIA, STEPH TISDELL
CASSIE WORKMAN, MICHELLE BRASIER, BRODIE LANCASTER, 360, KIRA PURU, DR EDDIE MULLEN
WINONA GRAY-LEVETT, MELISSA KELLER-TUBERG, DR KARL KRUSZELNICKI
DR SUELETTE DREYFUS, UWE AICKELIN, CHRISTOPHER KNAUS, LUCIE KRAHULCOVA
ELLA JAKUBOWSKA, KONSTANTINOS KOMAITIS.


GLOBAL VILLAGE
DELTA KAY, JARMBI MILES, ELLA NOAH BANCROFT, SALLY MUSTANG, TEDDI EMERALD, WHAIA
KUMU PA'A KAWIKA FOSTER, KATE NELSON, LOQI & DAR PAN, LEYOLAH ANTARA & SOL FARINA,
DANE TOMAS, ALEXIS SABATINO, VICTORIA REDBARD, GABRIEL OTU,
THE BOY OF MANY COLORS, HAYDEN HACK, MURRAY KYLE, SERENITY JANE
THE SPACE COWBOY and THE BRUNSWICK PICTURE HOUSE CHEEKY CABARET.
COMEDY CLUB
NAZEEM HUSSAIN, ANNE EDMONDS, TOM BALLARD, NATH VALVO, ZO COOMBS MARR,
GERALDINE HICKEY, MICHELLE BRASIER, HARLEY BREEN, LLOYD LANGFORD, GREG LARSEN,
IVAN ARISTEGUIETA, ALEX WARD, SONIA DI IORIO, TIM HEWITT, LUKA MULLER
KIRSTY WEBECK, EMMA HOLLAND and SCOUT BOXALL.
TIPI FOREST
APRIL KERRY, HYPNOTECH, STAUNCH, MAMA QUILLA,
MORGAZMK, PURPLE HAYES, SKRAM, SURGE, TAYA, & TETRAMETH
plus set and lighting design by SPECTACLE ART and VJ visuals from EYEBYTE, JUST CHUCK, & JOHN CAROLAN.
LITTLE SPLENDOUR
POPPY GALACTIC AND THE BEAT, RED ROCKET 3, dirtgirl,
scrapboy, THE MINI MOSHERS, TIPTOE GIANTS, SHORTY BROWN, TONY TWIST,
GARETH FROM SOUND SYNERGY, FARM KIDS, FIESTA CREATIONS,
ARIBOY, INSPIREDANCE and DANCE LAB.
FOR MORE BREAKING NEWS CLICK HERE