#KEEPYOURDIS-DANCE: New Aussie And Kiwi Releases To Listen To This Week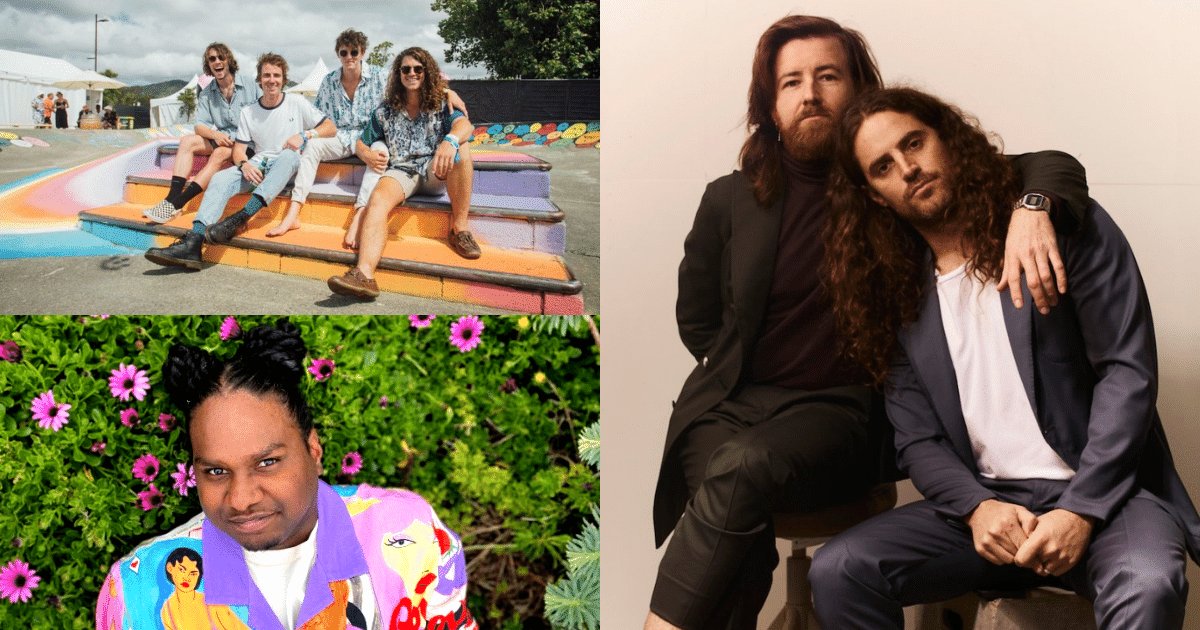 As the music industry continues to face the very real effects of the ever-evolving global health crisis, there has never been a better time to support the local music scene by getting stuck into some new music from local Australian and New Zealand artists.
We've curated our very own playlist to share fresh local music releases so that you can help support musos through this tough time. Check out some of our favourite new releases below.


New Releases:


Holy Holy ft. CLEWS - The Aftergone
Indie rock duo Holy Holy have just released a brand new track titled 'The Aftergone', which will feature on their forthcoming album 'Hello My Beautiful World'. The track features guest vocals from sister duo CLEWS and brings an energetic and EDM-driven sound to the table, with some punchy electric guitar riffs in there for good measure.
Give 'The Aftergone' a listen in full via Spotify. Catch the duo performing this track live on their 'Hello My Beautiful World' tour in Nov/Dec. More info and tickets via Moshtix.
Mako Road - Stranger Days
Kiwi alt-indie faves Mako Road's new single 'Stranger Days' takes you on a psychedelic journey infused with enchanting flanging guitar riffs and whimsical vocals.
Listen to Mako Road's new track via Spotify. Catch the four-piece performing live across Australia and New Zealand this Aug & Sep. More info and tickets via Moshtix.
Baker Boy ft. G Flip - My Mind
Yolngu rapper Baker Boy has released a dope new track in collaboration with none other than Melbourne drumming legend G Flip. The single titled 'My Mind' which features on Baker Boy's long-awaited debut album 'Gela', is a feel-good funky vibe, drenched in punchy pop-ladened vocals and playful synth sounds.
Listen to 'My Mind' via Spotify.
Other noteworthy releases:


Sydnee Carter - Bruises
Since winning the 2017 WAM Song of the Year, Perth based singer-songwriter Sydnee Carter has continued to reach new heights, collaborating with the likes of SLUMBERJACK and WasteLand. Her latest release 'Bruises' is channelling some serious Lauren Mayberry (CHVRCHES) vibes. It's the perfect chilled-out pop track to ease into the workweek.
Listen to Sydnee's new single via Spotify.
Spacey Jane - Lots of Nothing
Perth indie-pop darlings Spacey Jane released their first bit of new music for the year the other week and we can't get enough. The new single titled 'Lots of Nothing' gives us serious summer FOMO, showcasing the outfit's signature playful guitar-laden sound and infectious vocals.
Listen to Spacey Jane's new single in full via Spotify. You can also catch the four-piece performing virtually at Splendour XR later this month. More info and tickets via moshtix.com.au
SACHI - Down On Your Luck
NZ duo SACHI have just released a serious party starter of a track titled 'Down On Your Luck'. You're gonna want to crank the volume up for this one!
Listen to SACHI's new release via Spotify.


Barkaa - King Brown
Malyangapa, Barkindji artist, Barkaa has just dropped a HUGE new track titled 'King Brown'. The single is the first track off her forthcoming debut EP and we're vibing hard. The single shows a new side of the rising star that's cheeky and comical as all hell.
Listen to Barkaa's new single 'King Brown' via Spotify.
Mi-Kaisha - Brand New
Mi-Kaisha is a rising singer-songwriter we're eager to hear more from. Her latest release titled 'Brand New' gives us all the feels, featuring chilled-out trap rhythms paired perfectly with Mi-Kaisha's spine-tingling RnB/soul-inspired vocals.
Listen to Mi-Kaisha's new song 'Brand New'via Spotify.
Unknown Moral Orchestra - Weekend Run
Kiwi psych-rockers Unknown Mortal Orchestra have just dropped a new song titled 'Weekend Run'. This is the outfits first single release since their 2018 full-length 'Sex & Food'. The track is full of funky basslines and their signature blissed-out vocals, a perfect way to start your work week off right!
Listen to 'Weekend Run' via Spotify.
Waiata Jennings - My Way
Late last year Auckland teen Waiata Jennings blew up after her song 'Glitter' went viral from a 15-second video on TikTok. Jennings has just realised her latest single titled 'My Way' and we reckon it's on the way to viral-city!
Give Waiata Jennings new track a listen via Spotify.
San Joseph - Blink Twice
San Joseph, a fresh face on the alt-pop scene has certainly caught our attention after dropping his debut single 'Blink Twice' earlier today. The Melbourne-based artist brings all the warm and fuzzy vibes we've been yearning for to the table with this single. It's a toe-tapper and a half!
Give San Joseph's debut single a listen via Spotify.
Aldous Harding - Old Peel
Darling Kiwi singer-songwriter Aldous Harding is back in business, releasing her first piece of original music in two years. The piano and guitar-driven new single titled 'Old Peel' is an alt-rock wonderland, showcasing Harding's signature quirky style.
Listen to the new single in full via Spotify. There's also a cheeky acoustic version to indulge your earholes in!
Bluey Green - Colours
After dropping his debut single 'Morning Sunshine' earlier this year, Mount Maunganui based songwriter Bluey Green has since released another two fabulous, indie-pop fueled tracks. His latest release, titled 'Colours' gives us major 80s' synth-pop nostalgia, featuring oh so dreamy vocals and hyper-melodic synth sequences.
Listen to 'Colours' in full via Spotify.


The Goon Sax - Psychic
Aussie trio The Goon Sax have just released the first track off their forthcoming album 'Mirror II'. The single, titled 'Psychic' is overflowing with Goon Sax goodness, drawing from gloomy '80s indie sounds.
Listen to 'Psychic' in full via Spotify.
RICEWINE - Already Gone
Talae Rodden aka RICEWINE is one emerging act that's caught our attention. The Thai-Australian singer-songwriter just dropped his first single of 2021 titled 'Already Gone' and we're big fans. Full of dreamy keys, sun-drenched guitar riffs and soothing vocals, this track is a must-listen.
Check out RICEWINE's latest single via Spotify.


Mansionair ft. Yahtzel - Don't Wait
Indie-electronic trio Mansionair have dropped the second single from their forthcoming second record. The track, titled 'Don't Wait' features dreamy beats from Sydney-based producer Yahtzel, which perfectly compliment the band's playful energy. Their accompanying video clip is also a HUGE vibe.
Listen to the new track in full on Spotify. Wanna see the trio live? Grab a ticket to their show at The Night Cat in Melbourne Fri 9 July via the Moshtix website.
Thandi Phoenix - Overdrive
Okay, we're having a little moment over here after listening to Thandi Phoenix's new track 'Overdive'. We're obsessed with the 1000/10 energy Thandi dishes out in this club approved banger. Need we say more?
Listen to 'Overdrive' by Thandi Phoenix in full on Spotify.
Rops1 - No Cap
Lyrical genius Rops1 has just dropped a dope new track that has us wanting more. 'No Cap' is a must-listen for any hip-hop and rap aficionados out there, infused with just the right amount of trap-inspired beats and heavy-hitting rhymes.
Listen to Rops1 new track 'No Cap' on Spotify. You can also catch Rops1 performing live in Perth on Friday 16 July at Bar1 Nightclub. More info and tickets via our website.


Godlands - TY4R (Thank You 4 Raging) EP
Rising star producer Godlands has brought an absolute heavy-hitter of an EP to the table titled 'TY4R - Thank You 4 Raging). The EP features some fire collaborations with Adelaide favourites EAST AV3 and mysterious producer/club witch BRUX. We highly recommend getting stuck into this EP this weekend!
Listen to Godlands latest release in full on Spotify. You can also catch the rising star performing live on her Thank U 4 Raging Tour this July in Adelaide and Perth. More info and tickets on our website.
Isabella Manfredi - Jealousy
The Preatures lead singer Isabella Manfredi has dropped her very own debut single titled 'Jealousy'. The release comes after her departure from the band. If this track is anything to go by, Manfredi is on her way to a very successful solo career. The single is full of energetic pixie dream girl energy with a heavy dose of 80s synth-pop sprinkled on top.
Listen to Manfredi's debut single via Spotify.
Marcus Whale - Undead
Singer-songwriter Marcus Whale has just released their first song of 2021 and we think it's pretty red hot. The single titled 'Undead', features a unique blend of industrial experimental pop sounds and haunting vocals.
Listen to 'Undead' in full via Spotify.


LEISURE - Take You Higher
New Zealand five-piece have just unleashed their groovy new track titled 'Take You Higher', featuring their signature dreamy vocals and funky basslines.
Give the outfit's new single a listen via Spotify.
Vetta Borne - Emelia
Melbourne singer-songwriter Vetta Borne aka Maribelle Anes has gifted fans a stunning new soulful RnB-meets-pop EP titled 'Emelia'. The EP eloquently depicts Borne's emotional journey of personal growth, dishing out a magical blend of soulful tunes perfect for a long car trip to the seaside this weekend.
Listen to Vetta Borne's EP via Spotify.
Banoffee - Tapioca Cheeks
Following her 2020 album 'Look at Us Now Dad', Melbourne hyper pop artist Banoffee has dropped her first track of 2021 titled 'Tapioca Cheeks' and we're totally vibing the unique pop-fulled electronic sound the singer-songwriter has brought to the table.
Listen to 'Tapioca Cheeks' in full via Spotify.
Louis Baker - Brighter Day
Kiwi modern soul master Louis Baker has shared a deeply emotional new single titled 'Brighter Day'. The single features a blend of powerful vocals, playful keys and chilled out guitar notes.
Listen to 'Brighter Day' via Spotify.
Proto Moro - THE 63
Starting out with a little flute hook played inside of a tiny room in Coburg, Melbourne-four piece Proto Moro have dropped the first track off their forthcoming album PROTOSYNTHESIS. 'The 63' is a beautiful melting pot of psychedelia, jazz, funk and everything in between. A dance-floor certified hit in our opinion!
Listen to the new track in full via Spotify.


Camp 8 - Honey
If you don't have Camp 8 on your radar, then we suggest you start paying attention. the Melbourne-based, Christchurch born songwriter dripped his toes into the scene in early 2019 and has since climbed up the ranks, releasing his debut EP in 2020 and this week a brand new single titled 'Honey'. Camp 8's sound is a delightful mix of downtempo beats and spine-tingling vocals, packed full of raw emotion.
Listen to Camp 8's new track 'Honey' HERE.
CXLOE - Cry & Drive
I'm not crying, you are! Dark-pop singer CXLOE just released a new single that has brought us to tears. Titled 'Cry & Drive', the track is steeped in the intense emotions after losing a loved one. The song also features a short voicemail from CXLOE's grandmother who recently passed, adding an extra personal dimension.
Listen to 'Cry & Drive' HERE.


REMI - Fried
Australian Hip Hop duo REMI (Remi Kolawole and Sensible J) have played a pivotal role in the new era of Aussie hip hop and have just released their third, full-length album titled 'Fried'. The album marks the creative end of the duo, who bow out of the music partnership after producing a massive catalogue of tracks together.
Listen to the album in full HERE.
Milan Ring ft. Che Lingo - BS
Multi-instrumentalist Milan Ring is causing a stir in the Mosh office after dropping her new single 'BS'. Featuring London rapper Che Lingo, the track demands your attention right from the onset, with the duo's voices unleashing a unique and powerful joint sound.
Listen to 'BS' in full HERE. Wanna see Milan Ring live? Don't miss out on her appearance at Oxford Art Factory's The Weekly Series on Wed 9 June. More info and tickets HERE.
Abby Bella May - I Am Sensitive
Sydney dream-pop artist Abby Bella May has dropped a brand new EP titled 'I Am Sensitive' and we reckon it's a bit of alright. Each of the seven tracks featured on the EP features Abby's signature lo-fi sound, combining floating vocals with quirky electronic driven beats.
Listen to the entire EP HERE.
Harper Finn - She Said
Rising Kiwi singer-songwriter Harper Finn showcases his incredible electro-pop sound in his latest release titled 'She Said.'
Listen to Harper's new single HERE. You can also catch him performing live across New Zealand this May alongside trio LA Women. More info and tickets HERE.
Bliss n Eso ft. Kasey Chambers - Good People
Hip hop legends Bliss n Eso have today revealed their brand new single titled 'Good People'. The track features iconic country music singer-songwriter, Kasey Chambers. Along with the single announcement, the trio also announced their 2021 Send It Tour, kicking off this June/July. More info HERE.
Listen to Bliss n Eso's new single HERE.
ASHWARYA - To The Night
Melbourne rising star ASHWARYA is back in a big way in 2021, dropping a huge new single in collaboration with hip hop heavyweight, Vic Mensa. The new single is the singer-songwriter's first release of the year and we can't wait to hear more!
Listen to the track in full HERE.


Looking for ways to support artists through these tough times? Here are some simple ways you can help!
1. Buy some Australian and New Zealand music and merchandise directly from the artist's website or via Bandcamp.
2. Consider donating your refunds or a portion for cancelled shows to Support Act's The Sound of Silence fundraiser.
3. Spread the word and contact your fave radio station and ask them to play tracks from local acts you'd love to hear over the airwaves.
4. Buy tickets to artists rescheduled shows as soon as they become available.
Keep streaming your fave local acts on streaming services like Spotify and Apple Music!
FOR MORE BREAKING NEWS CLICK HERE